Why is Chimney Performance Important?is
Simply put, a chimney serves as the passageway for smoke and fumes to exit your home. Fireplaces have chimneys, of course, but other appliances in your home that burn fuel use a chimney or vent to exhaust fumes outside. No matter what type of fuel your chimney vents - gas, wood, coal, pellet or oil - all chimneys need to be inspected annually and cleaned when needed.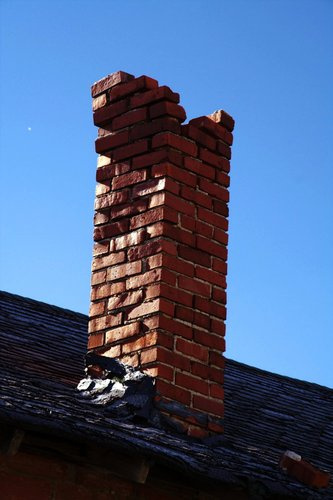 An estimated 26,000 home fires are caused each year by fireplaces, chimneys & connector pipe. An additional 56,000 home fires are caused by heating equipment. (Source: CSIA)
If more homeowners were diligent about regular inspection and maintenance, thousands of fires could be prevented, saving homes and lives from tragic loss.

Professional chimney sweeps are specially trained technicians who evaluate your chimney and the appliances that vent into them, identifying existing or potential safety and performance issues. Our mission:
Eliminate chimney fires
Eliminate home fires due to improper installation of home heating appliances
Increase the efficiency of appliances through proper venting techniques, regular maintenance and cleaning
Prevent carbon monoxide poisoning due to unsafe venting
Identify and correct chimney and venting problems that can lead to structural problems due to water intrusion, including rain leaks in or surrounding your chimney
Common Services Offered by Chimney Sweep Companies
Chimney inspections & performance evaluation
Chimney lining / relining
Repairs due to chimney fire
Masonry repair
Fireplace repair
Fireplace design services
Fireplace renovation services
Fireplace mantel installation
Dryer vent cleaning
Dryer vent replacement
Diagnosis & repair of water related chimney damages
Restaurant & industrial chimney/venting cleaning
Chimney cap sales & installation
Fireplace damper installation & repair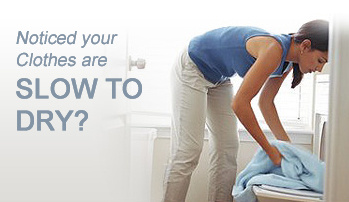 Dryer Vent Safety

If an average load of clothes requires more than 40 minutes to dry, you may have a clogged dryer vent. Lint builds up in the vent,
preventing moisture from escaping to the outdoors so clothes take longer to dry. Lint is extremely flammable, and a clogged dryer vent can cause the dryer to overheat which leads to ignition of lint that causes home fires. Dryer vents cause more residential fires each year than the number of fires caused by chimneys! Many chimney service companies now offer dryer vent cleaning, so schedule an inspection of your dryer vent every year. If you must dry every load more than once, please stop using your dryer immediately until the vent has been cleaned.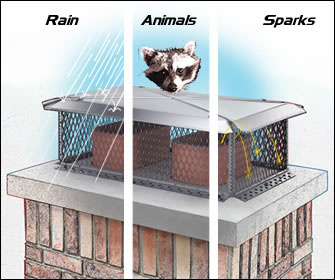 Why Every Chimney Needs a Chimney Cap

A chimney cap keeps birds, squirrels and other wildlife from entering your chimney where they often set up residence by building nests to raise their families. Sometimes the babies can't escape back outside of the chimney so they die in there, resulting in horrendous odors and house fly infestations. Even if they're able to leave the chimney, that flammable nest stays there and creates a potential fire hazard. Chimney caps also keep out rain and weather and serve as spark protection.
Carbon Monoxide: The Invisible Killer
Carbon monoxide is a clorless, odorless gas produced by all fuel-burning appliances. Since the venting system provides the means for carrying these fumes outside of your house, The Consumer Product Safety Commission advises that the heating system, chimneys and vents be inspected and serviced annually for a trained service technician.
Links

You may find these outside sources helpful in researching further information on fireplaces, chimneys, fire safety and more
Certified Dryer Exhaust Technician (CDET) Program
Chimney Safety Institute of America (CSIA certification)
Hearth, Patio and Barbecue Association
Support Our Guild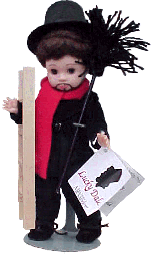 Sales of the collectible "Lucky Dale" chimney sweep doll, designed for us by Madame Alexander help fund public safety and industry training. Get yours today!
FULL DETAILS >>